VIP ADDRESS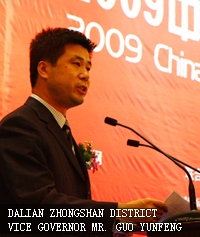 Distinguished Guests, Ladies and Gentlemen:
At this night during GSS, we held the grand "China Shipping & Logistics Starlight Banquet". On behalf of Dalian Zhongshan District Government, I welcome shipping experts, financial experts, senior experts from the whole world. And I give congratulations to all awardees.
China shipping industry has gone through several centuries, and the rapid development of China in the past 60 years also enable the great achievement of China industry. China is turning to be a large shipping nation to be a shipping giant. Today, I feel excited to be here to view so many distinguished logistics companies,which proves that shipping personnel's endeavor and we appreaciate it.
Zhongshan District is the major district of Dalian. Thus, Zhongshan District is the logistics and business center of Dalian. Zhongshan District is making effor to contributr to build Dalian to be Northeast Asia shipping center. The top 20 liner companies in the world have built their offices here.
Through the platform of GSS, Zhongshan District will make more friends in the world shipping industry and make shipping high-ends in the whole world know more about Dalian. We will take this opportunity to enhance cooperation and communication. We warmly welc