JUDGE'S ADDRESS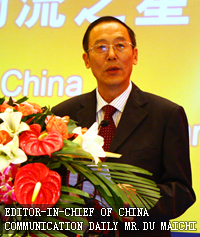 Distinguished Minister Qian, Minister Wei and ladies and gentlemen:
Good evening, on behalf of medias I will give my warm congratulations on the success of 2009 4th GSS.

At this critical period, China government continues to maintain increase and promote reform. Senior officials and experts gather in this beautiful coastal city Dalian to discuss the shipping development plan, which will have deep impact on the shipping industry.
China Central Government attaches great importance to the development of shipping industry. At the national water conference in July 2007, China government proposes that China will achieve its goal of building a modern transportation country by Year 2020. We will be equipped with complete water transport infrastructure. And we will achieve cost-saving and clean development. We will foster large and repetitious shipping enterprises and we will develop shipping service capacity.
 
On China transportation Meeting on Jan. 15th , Minister Li Shenglin of Ministry of Communication and Transport Dalian points that we should strengthen the port infrastructure construction and promote building of Shanghai, Dalian, Tianjin to be the international shipping center. He claims that we should give full play to modern logistics in modern transportation to improve specialization and socialization of logistics.
One is to support the logistics park construction. Two is to foster the logistics market and make it complete. Three is to promote the public information platform, integrating various resources and lower logistics cost.  
  With these policies in practice, the goal of shipping modernization is upcoming. I believe that with the efforts of all shipping experts and managers, the shipping industry will have a bright future. Wish GSS a great success.